Pumpkin Spice Apple-Cranberry Doughnut Holes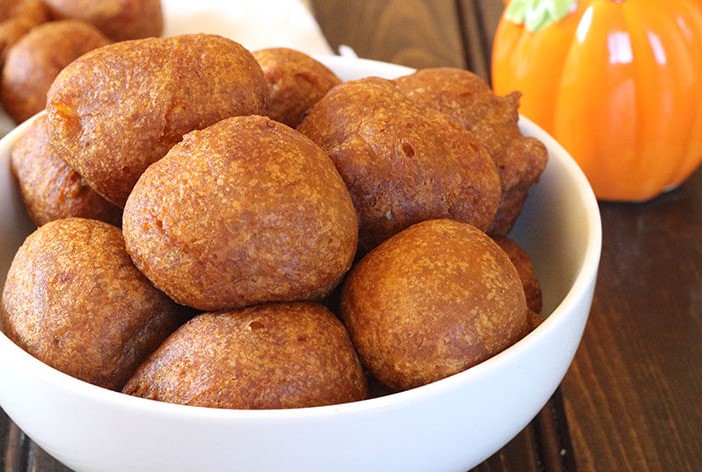 This is an easy, streamlined doughnut recipe – while you can inject the jelly inside to make it a jelly doughnut, you can also simply top these delicious little treats with your favorite topping (chocolate or cinnamon sugar)!
2 cups all purpose flour
1 ½ tsp baking powder
1 tsp cinnamon
¼ tsp nutmeg
¼ tsp salt
2 tbsp maple syrup
1 cup half & half (Substitute milk for lower fat version or soy/almond milk for those with allergy/dairy/lactose issues)
3 tbsp light brown sugar
2 tbsp unsalted melted butter
1 egg
1 tsp vanilla extract
½ cup of canned pumpkin
1 cup dried cranberries
1 cup diced Granny Smith Apples
¼ cup white sugar
Strawberry jelly
Powdered Sugar
Vegetable or Canola Oil
In a bowl, combine apples with maple syrup and 1/2 tsp cinnamon and set aside. In another mixing bowl, mix flour, baking powder, ¼ tsp cinnamon and salt. In another bowl, stir in milk, brown sugar, butter, egg, pumpkin and vanilla. Combine liquid into dry ingredients until smooth and then add cranberries, apple mixture and mix. Let batter stand for 20 minutes. Combine rest of the cinnamon and sugar and pour onto a flat plate. Put strawberry jelly or chocolate fudge in a squeeze bottle.
Heat frying pan with oil - MAKE SURE OIL IS HOT BEFORE PROCEEDING! Using a soup spoon or an ice cream scooper gently ease a small dollop of batter into the oil – it should form into a ball shape. Flip ball when bottom is golden brown and repeat. When both sides are golden, remove from oil onto a paper towel to drain.
While ball is hot, dredge it in the cinn-sugar, and cool – When cool, you can inject the jelly into the ball or simply top it with the jelly/jam/chocolate. Top with powdered sugar and serve. YUMMM!!