Griddled Tofu with Garlic Ginger Bok Choy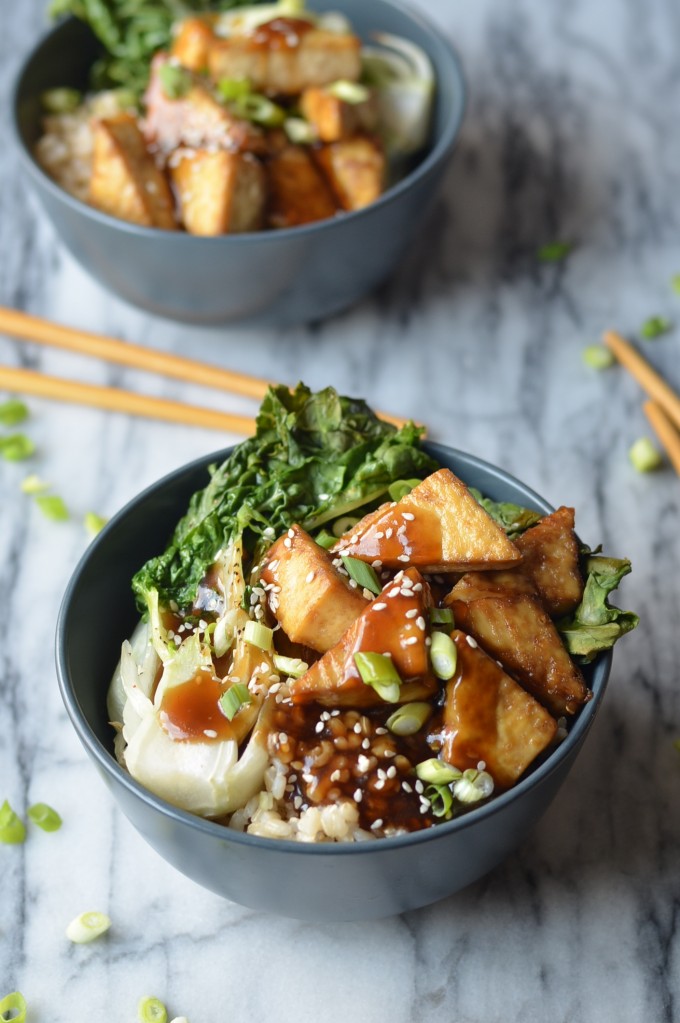 1 cup water
1/4 cup low-sodium soy sauce
1 tablespoon sesame seeds
1 tablespoon brown sugar
1 tablespoon rice vinegar
1 teaspoon crushed red pepper
2 teaspoons minced peeled ginger root
2 teaspoons dark sesame oil
3 garlic cloves
2 (10.5 ounce) packages reduced-fat firm tofu, drained
Vegetable cooking spray
2 teaspoon vegetable oil
12 cups thinly sliced bok choy
1 teaspoon minced peeled ginger root
2 garlic cloves, minced
2 1/2 cups diagonally sliced green onions
1 tablespoon low-sodium soy sauce
Combine first 9 ingredients in a blender, and process until smooth. Pour puréed sesame seed mixture into a large bowl; set aside. Cut each tofu cake crosswise into 4 slices. Place tofu slices in sesame seed mixture, and marinate in refrigerator at least 2 hours.
Coat a large nonstick skillet with cooking spray, and place over medium-high heat until hot. Remove tofu slices from marinade; discard marinade. Add tofu slices to skillet, and cook 2 minutes on each side or until browned. Remove from skillet; set aside, and keep warm.
Heat 1 teaspoon vegetable oil and 1 teaspoon sesame oil in skillet over medium-high heat. Add bok choy, 1 teaspoon gingerroot, and minced garlic; sauté 2 minutes. Add green onions and 1 tablespoon soy sauce; sauté 2 minutes.
Spoon bok choy mixture onto individual plates, and top with tofu slices.