Pan Fried Tofu with a Sweet Soy Glaze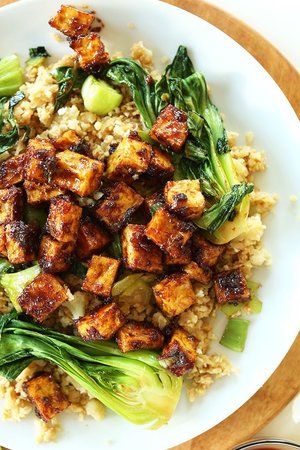 Serve with white or brown rice or quinoa, and a side of bokchoy!
2 tablespoons Chinese dark soy sauce
2 tablespoons honey or agave
1 teaspoon rice vinegar
1 teaspoon chili garlic hot sauce (sambal oelek)
one 14-ounce block firm tofu
2 tablespoons canola oil
1 tablespoon minced garlic
1 serrano, stemmed, seeded, and sliced
1 scallion, chopped

Procedure
1) Mix together the soy sauce, honey, rice vinegar, and chili garlic hot sauce (sambal oelek) in a medium-sized bowl. Set aside.
2) Cut the tofu into ½-inch thick slices, which are approximately 3-inches long. Dry the tofu pieces on paper towels.
3) Place a large saute pan or wok over high heat. When smoking, add just enough of the canola oil to coat the bottom of the pan. Add as many of the tofu slices as will fit in one layer. Cook until tofu is browned on the bottom, two to three minutes. Flip the pieces with a pair of tongs, and brown on the other side, about two minutes. When done, drain the tofu pieces on paper towels. Repeat process with remaining tofu pieces, adding more oil if necessary.
4) Pour off all but 1 teaspoon of the canola oil, and turn the heat down to medium. Add garlic and cook until fragrant, about 15 seconds. Pour in the soy sauce mixture, and cook until it thickens slightly, about 30 seconds. Turn off the heat.
5) Divide the tofu between two plates, and pour half of the sauce over each. Garnish with the chopped serrano and scallion.