Blondie Cakes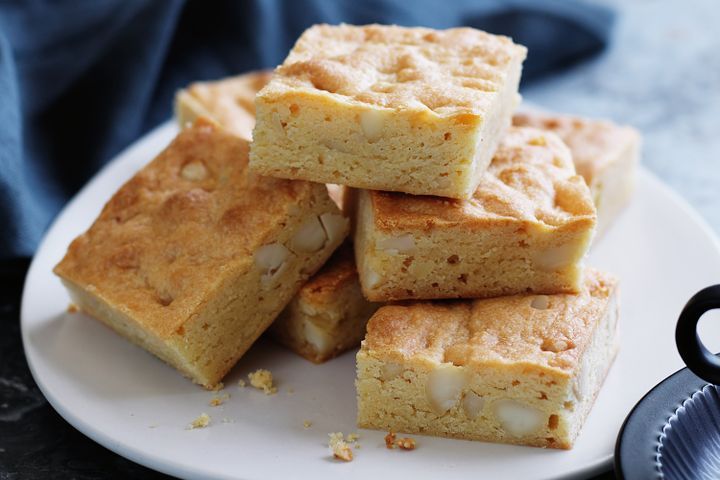 We usually make this recipe in a 9 x 13 pan and cut the blondies into squares like brownies, but you could easily use this dough to make muffins, cookies or even a large chocolate chip cake/pie.
1 cup of butter
1 Box Brown Sugar (16 oz.)
3 eggs
2 ½ Tsp baking powder
½ Tsp salt
1 Tsp Vanilla
2 ¾ cups of flour
12 oz package of chocolate chips (milk or semi-sweet)
1 cup chopped walnuts (optional)
Melt butter in a small pot and then add brown sugar. Mix until sugar and butter combine and become smooth. Remove from heat and let cool in a bowl. Combine flour, salt, baking powder in another bowl. Once sugar is cooled, add eggs, vanilla and stir – Then slowly add the dry ingredients a little at a time and mix to form dough. Once the dough is formed, fold in chocolate chips and nuts.
If making brownies, pour into a buttered and floured 9x13 pan (you can also use non-stick spray) and bake for 50 minutes at 350 degrees. Do the toothpick test once 40 minutes rolls around as everyone's oven is different and you don't want to burn this baby!
If making muffins, fill muffin tins with batter about ¾ high and bake at 350 for 20 minutes or until a toothpick or cake tester comes out clean. If making cookies, use a spoon to dollop dough onto parchment paper and bake at 350 for 8 minutes or until golden brown. Let cool and serve with milk! Or better yet, make larger cookies and after they've cooled, grab a scoop of your favorite ice cream and make the best ice cream cookie sandwich you've EVER had!