CKA's Easy Apple Pie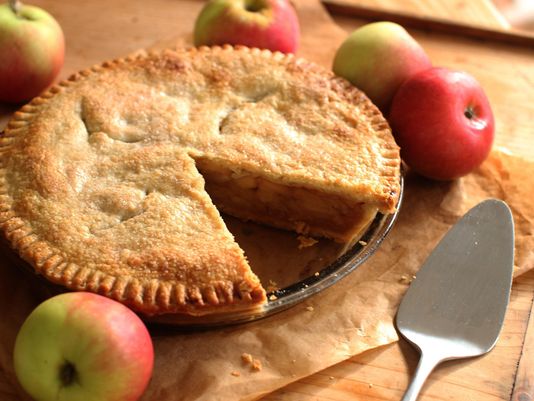 2-3 Granny Smith Apples
1 lemon
3 Tablespoons Brown Sugar
1 tsp vanilla
1 tsp cinnamon
1 tablespoon cornstarch
½ tsp salt
¼ tsp nutmeg
Butter
Pastry dough (pre-packaged is fine)
1 egg
Ice Cream/Whipped Topping (optional)
Preheat oven to 350 degrees.
Peel and dice apples and place in a bowl. Squeeze lemon juice on top to prevent browning and toss. Add sugar, vanilla, cinnamon, salt and nutmeg and toss again.
In a small cup, combine cornstarch with warm water, stir and set aside.
In a large pan, heat up butter and add apple mixture over medium heat. Stir gently as ingredients warm and combine. As apples begin to soften, add cornstarch to thicken mixture. Once apples are fork tender, remove from heat and set aside to cool in a bowl.
Spread one layer of pastry dough out on a buttered and floured sheet-pan (you can use parchment as well). Once apple mixture has cooled, spread it onto the center of the pastry dough leaving at least one inch around the edges!! Using the other sheet of pastry dough, place on top of apple mixture and with a fork, crimp the border, sealing both sheets of dough together.
Put two or three small slices in top of dough to act as vents and then combine egg and 2 TBS of water and egg wash the top of the dough. Bake in 350 degree oven for 20 minutes or until pastry is golden brown. Remove from oven and let rest for 10 minutes and then serve warm with vanilla ice cream and some chocolate sauce drizzle. YUM!