Veggie Lasagna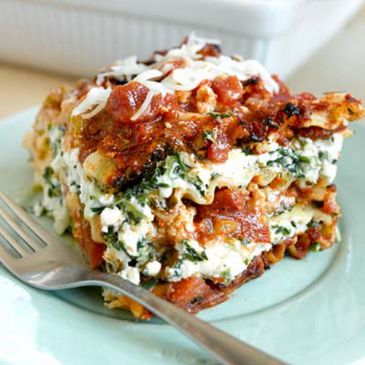 1 1/2 quarts spaghetti sauce (your favorite homemade or jar spaghetti sauce)
1/2 cup grated carrot
1/2 teaspoon oregano
9 cooked lasagna noodles (can use no-boil lasagna noodles)
1 (16 oz) containers ricotta cheese
1 (16 oz) packages frozen chopped spinach, thawed and well drained
2 eggs
1 cup sliced mushrooms
1 1/2 cups thinly sliced zucchini
3/4 cup chopped fresh basil leaves, loosely packed and divided
3 cups shredded part-skim mozzarella cheese
1/2 cup grated parmesan cheese
2 tbsp Olive Oil
2 tsp garlic herb powder
1 tsp salt
1 tsp pepper
Saute carrots, zucchini and mushrooms with olive oil. Mix Ricotta, spinach, and eggs together in separate bowl.
Spread ½ cup spaghetti sauce in bottom of 9 x 13 inch baking dish. Layer lasagna noodles, ½ remaining sauce, ½ Ricotta mixture, ½ sautéed veggie mixture, ½ basil, ½ Mozzarella, and ½ Parmesan.
Repeat layers with remaining ingredients.
Cover in foil and bake in 350 degrees oven for about 25 minutes. Remove the foil and bake for an additional 10-15 minutes until the cheese is melted and begins to brown around the edges.
Remove and set on a cooling rack. Sprinkle with Parmesan cheese and the remaining fresh basil. Serve warm.