Authentic Spanish Rice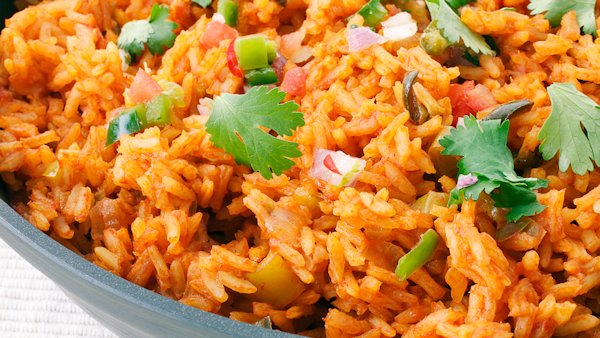 4 tablespoons butter (can substitute olive oil)
1 large sweet onion, chopped
1 cup diced green onions
1 jalapeno peppers, chopped (optional)
1 cup diced sweet roasted red peppers (or you can use pimiento)
2 (14.5 ounce) cans Mexican-style diced tomatoes, undrained
½ cup sliced black olives
A few dashes of cayenne or Siracha if you want it spicier
1 cup uncooked white rice (can substitute brown rice)
Salt and ground black pepper to taste
1/2 cup sour cream, or as desired (optional)
1/2 cup shredded Cheddar cheese, or as desired (optional)
Melt butter (or use olive oil) in a large skillet over medium-high heat; cook and stir onions, scallions, red peppers, and jalapeno peppers until softened, 3 to 5 minutes.
Stir Mexican-style tomatoes into onion mixture; add rice, salt, and black pepper. Bring rice mixture to a boil, reduce heat, cover, simmer for 25 minutes, then fluff with a fork. If the rice is tender but too soupy, cook uncovered for another 5 minutes. If the rice is dry but not yet tender, add 1/2 cup water (or veggie or chicken stock), cover and continue cooking for another 5 minutes, or until the rice is done
Garnish with sour cream and Cheddar cheese to serve.